The E-Sperse® RX Series are reactive emulsifiers which make stable, high solids waterborne emulsions from existing solvent-based alkyds. The RX Series products cure into the alkyd upon drying giving improved coating hardness and adhesion compared to competitive surfactants. They do not add to VOC, are APE-free, and often lower the surfactant usage rate compared to other surfactants. The RX Series products eliminate the need to design new alkyds especially for waterborne formulations.
Coating formulators have had difficulty in developing waterborne alkyd coatings with comparable performance to the solvent-based coatings. The difficulty has been matching the solvent-based alkyds in performance of dry time, gloss, adhesion, and corrosion resistance. Ethox has developed reactive emulsifier technology that facilitates the dispersion of highly hydrophobic and viscous alkyd resins into stable emulsions without adding VOC. The RX Series reactive emulsifiers close the performance gaps and offer formulators the opportunity to prepare high performing waterborne alkyd coatings with low VOC.
Below you will find some starting points to make your high performing waterborne alkyd coating!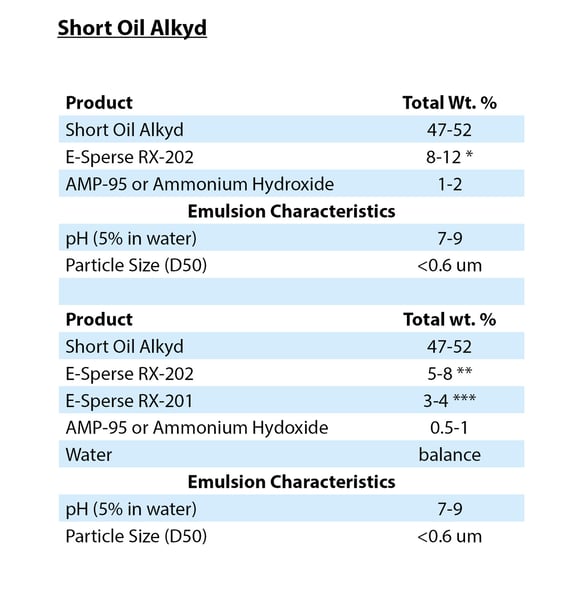 * 5 - 7 % based on resin
** 3 - 5 % based on resin
*** 1.5 - 2.5% based on resin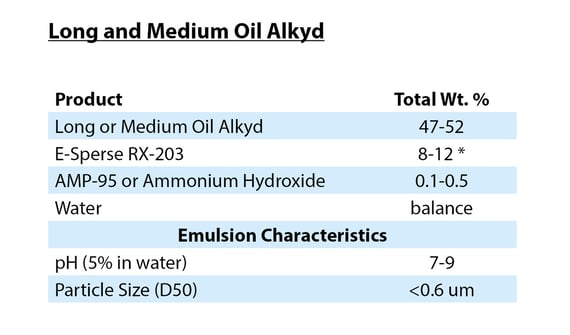 * 5 - 7% based on resin
All invert emulsions are made under low shear (<800 rpm).
Ethox Tradeshow Attendance
Ethox will be exhibiting at the Eastern Coatings show
May 13 – 15, 2019 at the Harrah's Resort in Atlantic City
.
Come see us at booth # 402!